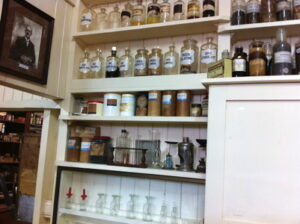 April is the first NHAA Sydney Chapter Meeting for the year, and they have asked me to speak again. But this time it will be a bit different – a pictorial conversation of herbal history, entitled "Herbs, Glass Bottles & Poisons in Childers – A Snapshot of Late 19th and Early 20th Century Herbal Medicine".
Date: Tuesday 14 April
Time: 6:30pm arrival for 7pm start (usually finishing around 9pm)
Location: ACNT, Level 5, 235 Pyrmont St, Pyrmont.
Having worked as a herbalist in pharmacy, and studied herbal medicines within the Faculty of Pharmacy at the University of Sydney, I have long had a strong interest in the interface between pharmacy and herbal medicine. As such one of my hobbies (when I have time!) is to visit pharmaceutical museums. This talk will be a pictorial conversation based around two visits to the Childers' Pharmaceutical Museum in Queensland, with some additional items of interest thrown in from the History of Medicine Museum at the University of Melbourne. Some fascinating pictures and history will be covered, some amazing old herbal medicines discussed, and even some important NHAA history will be shown.
Come and join us – both students and practitioners are welcome! The Chapter Meetings are run voluntarily by Joanna Wilson and Jayne Larkins, and entry is just to cover costs: $5 for NHAA members, $10 for non-members. Download the PDF here.
I hope to see you there!